Seriously, don't take your kids to New Mexico. We rushed out of Flagstaff, sad to leave such a gem of a city behind. It's like that city Twinkled or something.
Day #3
We were told by Twinkly Eyes that we might want to stop by the Petrified Forest on our way into NM. I'd do anything he told me to, so I was alright with it when Annie pulled off to check out another national park. The Petrified Forest National Park has within it some terrain that I may have found more appealing than the Grand Canyon. It's the Painted Desert. It was really cool to see, and I'd recommend not skipping this portion of any Southwest trip. The actual petrified forest wasn't spectacular; it almost looked suspicious. As if someone placed all of that stuff there. Cool colors and crystals and everything, but the drive around the north end of the park to see a bunch of views of the Painted Desert won out for me. Oh, and that lazy-ass searches upon leaving makes me want to go back and steal something.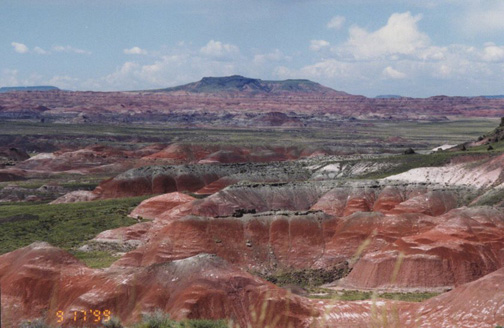 Painted Desert. I even took pictures (not these, but my own). I hate pictures. That's saying a lot.
Another day, another friend to visit. I found out that an old high school friend, who is currently a Staff Sergeant in the Army, was along the way. He's currently recruiting in the southwest, and he's based out of Gallup, NM. It was on our way that afternoon, so I told him I'd stop by his office in the mall. Plus, we both have some pretty good friends from Michigan that happened to be from Gallup, NM. We were excited to see the city from which they hailed.
Turns out, Gallup is a shithole. Maybe it's just that we happened to be in the mall in the middle of a weekday, during one of the traditionally slowest shopping times of the year. Everyone looked so depressed and defeated. Staff Sergeant didn't have much good to say about it either. On the other hand, he was overjoyed about his marriage, his daughter, and his new baby on the way. It was actually really nice getting to see him. He graduated 2 years before me, but he was one of the most brilliant jazz saxophonists to probably ever go through my program. Plus, the fact that had a happy life, even though he has a decade in the Army under his belt, made it even better. He loaded us up with tons of Army swag, which I plan to help get me some street cred here in the Bluegrass State.
As we were pulling out of the mall, I checked the price of gas. I figured if this place was as economically depressed as I was told, then gas would be cheap. But it wasn't. $3.95 a gallon. Then I realized that it was actually a dollar less than that ($2.95/gal) and I had read it wrong. I busted a U-turn on our way out to get gas real quick.
As we continued on through New Mexico, the terrain was very interesting and debateably (word?) beautiful, but desolate. We all know how bad Albuquerque is from Breaking Bad. Plus, Smelly at my last job told us stories about that town during every lunch break. So we pushed our way through to Santa Rosa, NM. I was already sick of seeing signs for Historic Route 66, and we had only been on it for a full day. If that wasn't bad enough, we went to the cheesiest local New Mexican cuisine diner that sold tons of Route 66 merch. The food and the establishment combined to hurt my stomach. At least the conversation between the creepy, old white dude and his mail-order bride behind me were interesting. Literally.
I have a relative that grew up in NM. So, I'll give her the benefit of the doubt and say that I was told that there are beautiful places in New Mexico. Apparently the freeway runs through the shittiest part of the state.
We skipped Bdubs that day, but not for good.
~RoB